Mount Laurel Divorce Attorneys
Supporting You Throughout the Divorce Process
Getting a divorce may be one of the most painful experiences of your life. The emotional physical and financial stress can be overwhelming and it can be terrifying to face a life other than the one you had planned.
To get through this successfully and deal with whatever comes next, you need an experienced Mount Laurel divorce lawyer to advise you on decisions that will affect you for many years to come.
Why Choose Fuhrman & Edelman for Your Divorce?
Over 80 Years of Combined Experience
We Walk with You Through Every Step of Your Divorce
Our Strategies Are Geared Towards Your Best Interests at All Times
We Have Served the Mount Laurel, NJ Community & Beyond Since 1986
We Are Passionate Attorneys Who Find Happiness in Reaching Your Goals
At Fuhrman & Edelman, we have guided thousands of individuals through the divorce process in order for them to move forward with the rest of their lives. A few of them have even returned to us more than once. We know how difficult divorce can be to you and your family. Our divorce attorneys in Mount Laurel can help you get through this with as little anguish as possible.
Our approach to divorce is focused on providing clients with:
Straightforward and honest advice
Personalized, one-on-one attention
Individualized solutions based on your family's unique needs
Detailed information about all of their options
Does It Matter Who Files For Divorce First In NJ?
Sometimes, once a divorce starts, it can be difficult to obtain the required paperwork, especially if your spouse is not cooperative. But when filing first, you will be in a better position to predict when these hearings will happen and have that much more control over when to initiate the process. If your spouse drags their feet, then it might require an order from the court to get them to hand over paperwork.
Contact us online to schedule a FREE consultation with of our Mount Laurel divorce lawyers today!
How Do You File for Divorce in New Jersey?
Filing for divorce in NJ involves establishing residency, selecting the grounds for your divorce, filling out and filing the paperwork, paying a fee, and serving your spouse with the paperwork.
Meet the residency requirements - One party must have lived in New Jersey for at least 12 months before a complaint for divorce can be filed.
Decide on your grounds for divorce - If you are filing a no-fault divorce, you need only state that your marriage has been broken for at least six months. If you are filing for fault-based divorce, you must be ready to state the ground(s) on which you are filing for divorce.
Obtain your divorce papers. Go to the Family Court clerk in the county where you or your spouse resides and obtain a complaint for divorce, as well as a "Confidential Litigation Information Sheet" and "Certificate of Insurance Coverage."
Fill out the divorce papers. It is recommended that you do so with the help of a divorce attorney to prevent mistakes and ensure you are clear about what you want in the divorce. Otherwise, amendments may be needed later on.
Make two copies of the divorce papers. The Court will file the originals and you will need two copies - one for your own records and one to serve to the Respondent (your spouse).
File the divorce papers. Go to the civil courthouse in the county where you and your spouse were married and file your divorce papers at the Dissolution Intake office. They will keep the original copies and stamp them as "filed."
Pay the filing fee. If you cannot afford it, then you may request a waiver.
Serve the divorce papers to your spouse. The Court clerk can arrange to have the papers served to your spouse by a sheriff or other court officiant. They then have 35 days to respond.
Guiding You Through Divorce with Care & Compassion
Turn to Fuhrman & Edelman for help with your divorce. While it is up to you to determine how to reach your goals, your divorce attorney in Mount Laurel will explain all of your options and advise you on which may be the best choices for you and your family.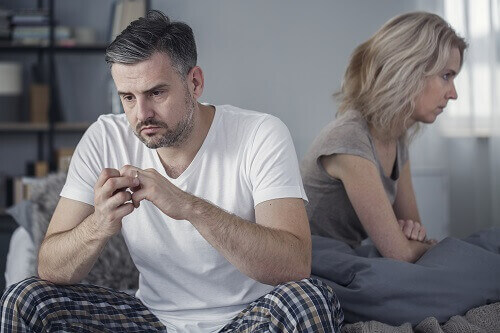 We can represent all matters relating to divorce, including:
Contested and uncontested divorce
High-asset divorce
Hidden assets
We can travel to your county to represent you, if necessary. Since 1986, our skilled divorce attorneys have represented clients in divorce matters in Mount Laurel and other surrounding areas in Burlington County, Camden County, and Gloucester County, New Jersey.
What Are Grounds for Divorce in New Jersey?
As of 2007, New Jersey is a "no-fault" divorce state. This means that, if you and your spouse have been separated for 18 months or longer or if you have experienced irreconcilable differences for six months or more, then you may file for divorce without needing any other grounds to do so.
If you wish to file for divorce sooner than that, you need to have a specific reason or "fault" on which to base your grounds for divorce.
New Jersey allows couples to file fault-based divorce due to:
Extreme cruelty- You cannot file until three months after the last incident occurred.
Adultery- You may file at any time.
Desertion- You may file 12 months after your spouse deserted you.
Whether you are filing for no-fault divorce or fault-based divorce in New Jersey, the process is complicated and should only be entered into with the guidance of a skilled divorce lawyer.
Our Mount Laurel divorce attorneys aggressively protect your interests, whether it is through negotiation with your spouse and his or her lawyer, or in front of a judge. We want you to get what you need from your marriage so you can start over with confidence.
We can help you move beyond this part of your life! Call us for a FREE consultation at (856) 288-2772 to discuss your divorce.